SUMMER ROCK BAND CLASSES
Guitar | Bass | Keyboard | Drums | Vocal
Paul Howard's Valley Music School
The Summer Rock Band classes are taught by Paul Howard and Tido Holtcamp (Drums). Besides being Director and guitar instructor at Valley Music School, Paul is a former faculty member of the National Guitar Workshop and is an author and instructor for Workshop Arts and the new Internet music school, WorkshopLive!
The one-week classes meet from 10:00 – 3:00 pm Monday thru Friday at Fellowship Hall of the Memorial United Methodist Church, 867 W. Avon Rd. in Avon, CT. The class performs for family and friends on Friday evening at 7:00. Students bring a bag lunch and refreshments are provided. We practice for two hours in the morning, break for lunch and then continue until we stop at 3:00 pm. The main focus of the class is to learn five or six songs that we can perform together as a band on Friday night. Along the way we learn about many techniques and musical ideas that teach the students to play better and work together as a cohesive unit. We also have a lot of fun!
The classes are arranged at different ages and playing levels as much as possible. Students sign up and let us know what weeks they are available and then the levels are arranged. Call Paul Howard at 860-677-8763 or 860-485-4666 for this years fee and class schedules. Sign up by May 1st and receive a discount! All of us at Valley Music School are excited about another great summer of music from our talented students!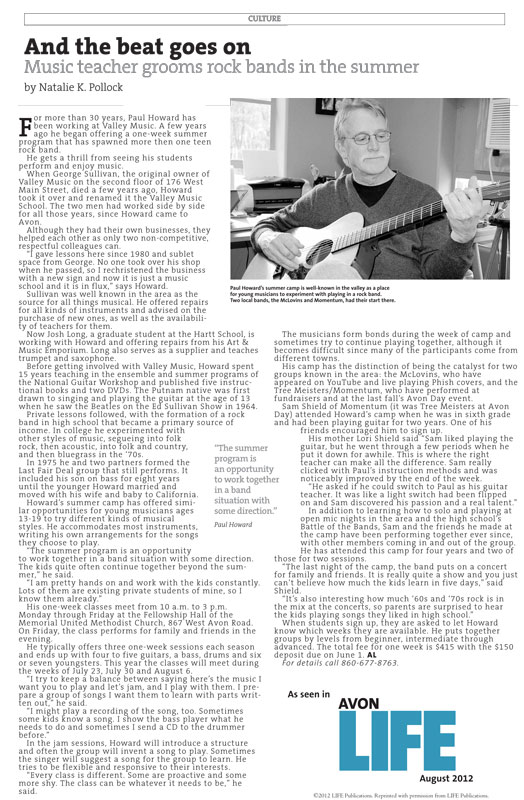 Save
Save